by Nathan Baker
Recently, I was in the market for a new lawnmower. I had a manual reel mower (like you used to see frequently decades ago) but it broke! I wasn't ever happy with my reel mower, so I knew I wanted to go in a different direction. I considered all of my options, including gas-fueled, battery-powered…I even thought about installing artificial turf. After much thought, I decided I would go with the battery-operated Swift EB132CP lawn mower. I found out about it because the company I work for carries Swift products. I bought the mower online at PlumbersStock.com, one of Swift's preferred US retail partners. It arrived in 2 business days, and I couldn't be happier with my decision.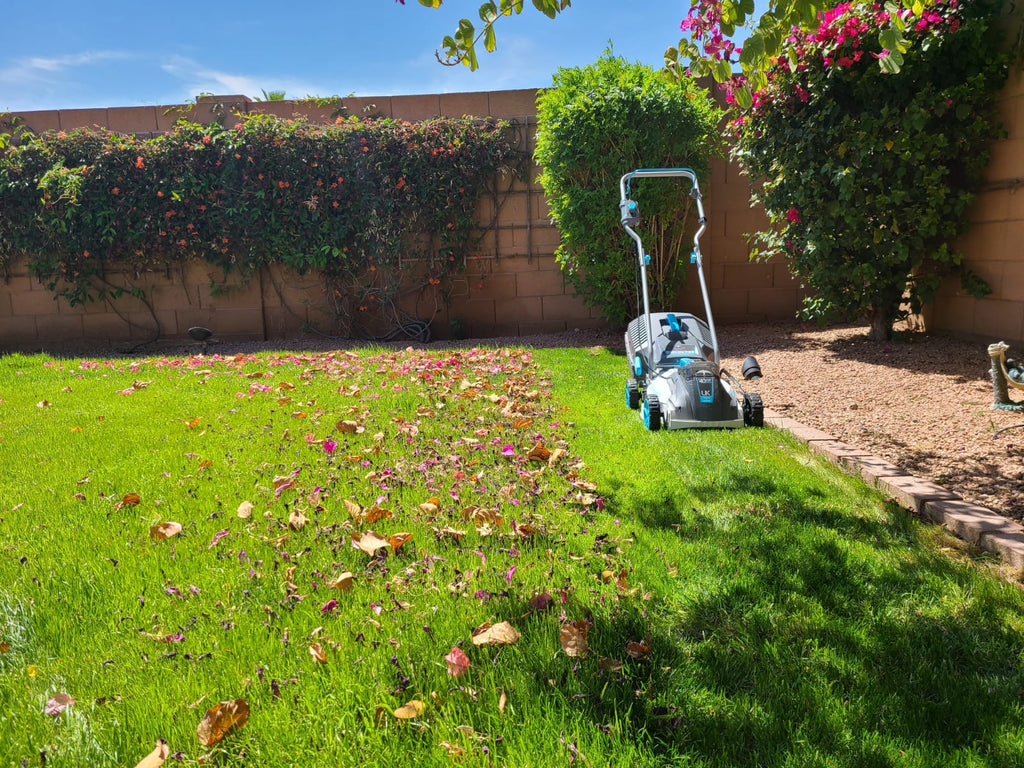 Why Did I Choose a Battery-Powered Mower?
I easily arrived at the decision to buy a battery-powered mower for a couple of reasons.
It's so quiet.

Gas-powered mowers are so loud that some people wear ear plugs. With my new Swift mower, I have a podcast playing at a moderate volume in one ear, with the other listening for my toddler and/or wife.

You don't have to deal with gas and oil.

It's pretty annoying to have oil spilling in the shed, and on the pavement, and who wants to make a run to the gas station just so you can finish mowing the lawn when you've run out of fuel? Unless you have a humongous lawn that would require several batteries to mow, it just doesn't make sense to go with gas-fueled.
Why Did I Specifically Choose the EB132CP?
First, and foremost, I was looking for an affordable mower. I wanted one with an interchangeable battery system that is compatible with other lawn and garden tools, like leaf blowers and hedge trimmers. I don't have any other Swift tools, yet, but that's the plan. My existing tools are getting old, the batteries are waning, and I wanted a better manufacturer.
Furthermore, I wanted a compact option. My lawn is very small. It's only about 400 square feet. I live in the desert and my front yard has a desertscape design. My back yard has a pool with just a little patch of grass. Now you understand why I was still operating with a reel mower. I don't want a big mower taking up lots of space in my shed. Luckily, Swift offers options, and the 13-inch EB132CP is perfect for my little lawn. I can mow it in less than 5 minutes, and then neatly tuck it away until next use.
Other Benefits
The mower collects the grass clippings as you mow, which means I don't have to rake anymore. I've turned a 15-minute job into a 3-minute job that cuts more evenly and looks cleaner. What I didn't anticipate is that mowing over fallen leaves and blossoms will collect those, too. I've got fallen blossoms everywhere all the time and now I can just leaf blow them onto the lawn and then mow over them, instead of raking them. This is a game changer, as you can see in the image the mowed section contrasting with the non-mowed section still covered in yard waste.
How Was the Assembly Process?
It took less than 5 minutes to assemble the mower from the time I opened the box. The process is so simple, I didn't even need to look at the instructions. I like the locking key safety feature. The bin that collects clippings is really easy to attach and remove.
How Long Does the Battery Last?
I've cut my lawn twice, and I still have over half the battery left, as indicated by the LED lights on the battery itself.
Conclusion
I wish my reel mower had broken sooner.